Audi manufactures high-quality materials to put on their cars. An Audi will serve many generations if maintained properly, and what better way to enjoy the full range of options Audi provides rather than adding some accessories. In this article, you will find the best accessories to turn your Audi into the one car people turn the head behind when you pass. Here you will find our picks of the best Audi S-line accessories for 2021.
Best Audi S-Line Accessories:
Best Choice:

Matrix Headlights

Best Price:

Matrix Tail Lights

Premium Pick:

S-Line Steering Wheel
Best Choice
Matrix Headlights
These are a must-have accessory for Audi drivers. Firstly lighting is undeniably the most important feature that must always be top-notch. Audi uses a series of Matrix Headlights which offer the best lighting experience you can have on an Audi while giving the car a stunning look. The technology behind the Audi Matrix Headlights is based around a high-beam unit consisting of a cluster of LEDs (the Audi matrix system consists of up to 25 LEDs per high-beam unit). That makes for the best lighting experience while also keeping an aggressive sharp-looking front.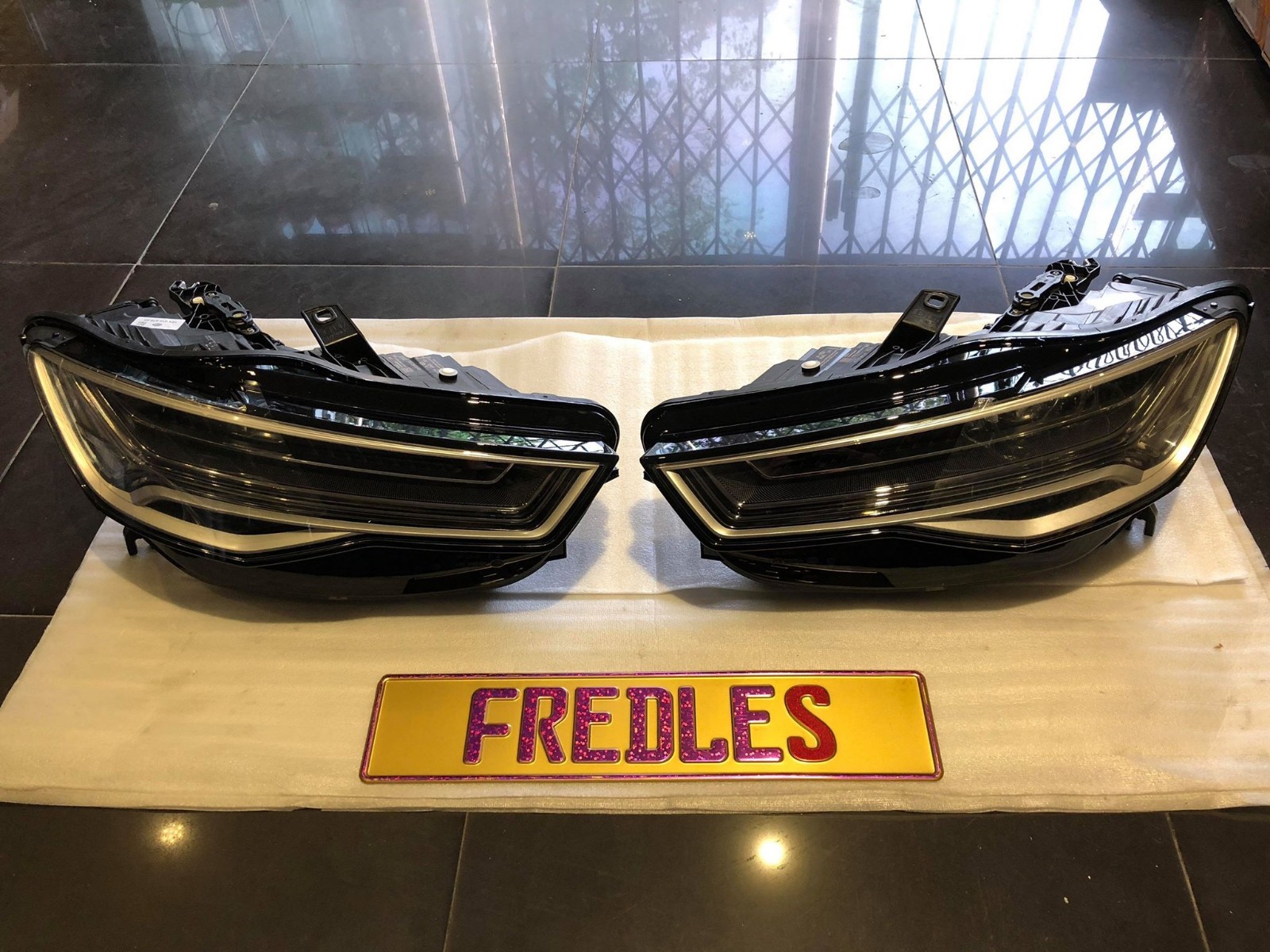 Buy Now
Best Price
Matrix Tail Lights
The cheapest upgrade you can do that will transform any Audi is a tail light upgrade. Usually, tail lights tend to fade out over time due to the high temperature of summer. Restoration can be done if you give a good polish to them but we have got something better for you. In terms of pricing, the difference between the matrix taillights and the polishing service is not going to be that huge. So why not upgrade to the new matrix tail lights for Audi which will look much better, the facelifted models have that crystal clear outside, while at the same time enjoy the matrix technology. The item is a plug and plays for most Audis.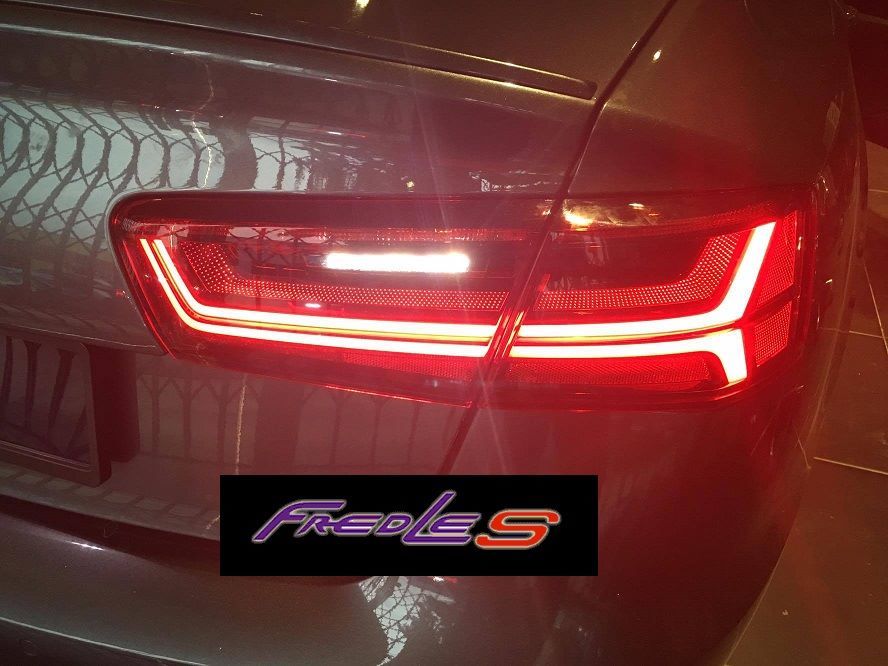 Buy Now
Premium Pick
S-Line Steering Wheel
The S-line offered by Audi is a whole different design of interior and exterior from the base models. If you like to have a small engine but at the same time you need those Audi RS6 vibes you can go with the S-Line package from the factory. But since you are here we are looking for upgrades. So for the ones who are still using the Audi Steering wheel with no onboard buttons, or likely worn out steering wheel the premium pick would be an S-Line steering wheel.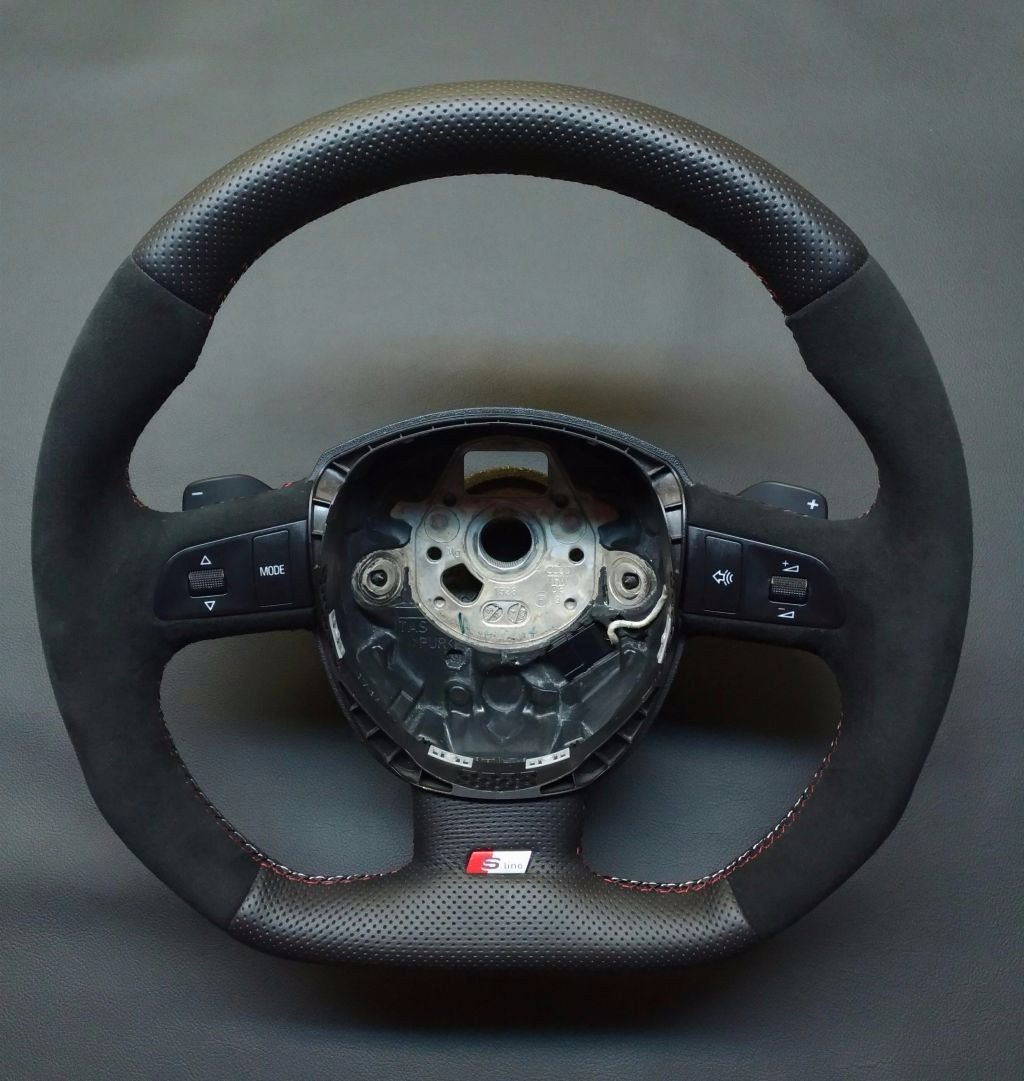 Buy Now
The base model Audis come with a rubber fabricated steering wheel while the S-Line is complete with fine stitching of colors of choice like black and red and Alcantara leather on the sides for better grip. You can also upgrade to the flat-bottom steering wheel for Audi which will turn any Audi looking like an Audi R8 Interior. Before you buy make sure to check compatibility as you might need to change other electrical components if you have mismatches of the model.
Are Audi S-Line Accessories worth it?
S-line is a sport trim offered by Audi in all consecutive seasons. The S-line became a trend to upgrade the trim of basic engine models looking like the S series Audi offers. Mercedes does the same with their line called the AMG package and BMW has the M package as well. The S-line accessories can be purchased one by one and it will not hurt your pocket as much. Originally if you bought a new Audi with the S-Line trim you would be looking at around 5000$-15000$ difference depending on the model. 
Since cars depreciate a lot in value you can find second-hand parts or you can find refurbished parts online or at the local shops. We do not suggest using third-party S-line accessories because those can only be stickers fading in a matter of a few miles. Some of the Audi S-Line accessories include S-Line leather seats, S-Line steering wheel, or S-line aluminum sport wheels.  These accessories will always be worth it anytime because the value of the car will not depreciate as much of a basic model. Secondly, you would have a very good-looking car for generations to come and any second-hand buyer will appreciate a fully-loaded car. 
What to Expect from the best Audi S-Line Accessories?
Cost
These accessories will nevertheless improve the car performance in terms of engine performance or suspension. If you are struggling and having performance issues we recommend you fix those first as these can be laid aside anytime you desire. The matter of fact is that these accessories will boost the driving experience. The better upgrade of the  Matrix Headlights will make for better lighting mile after mile and the Audi S-line seats will make for better comfort anytime.
The truth is the more you put in the more expensive things become. You need to take in consideration that upgrading to Matrix Headlights for example will have a $200-$300 cost in replacement of the LED lamps compared to the $5-$10 basic ones. Surely, there are other accessories for Audi under $50 which you can find here.
Upgrade what you already have
On the other hand, you should expect that your Audi will look 10 times better. You will be building your own car customization which will build a long-lasting connection between you and the car. If you feel passionate about it you can also customize what you already have, no need for expensive upgrades. 
Performance
Performance is yet another detail we need to consider. When we talked about the best Audi Accessories we also mentioned S-Line wheels. Upgrading from standard wheels to S-line wheels will not only refine the car exterior but also improve performance. In general, bigger wheel sizes mean more surface area to grip therefore better braking performance. Although we do not suggest overgoing to wheel size like 21. 
The smaller the engine the more stress it can cause because now the engine needs to output more to complete a full spin of the wheel due to the bigger size. For Audi A3 we suggest a maximum of 17, and Audi A4 and A6 with a maximum of 19 and A8 which is the biggest out of all we recommend a maximum of 21. Going above and beyond will hurt your car and your wallet at the same time.
Matrix Headlights will help the performance of your driving because the lights will turn as your orientation is going. Detect oncoming vehicles and lower the beans so they will not blind the driver in front of you and adapt to the darkness and brightness of the environment.
What to consider when buying Audi S Line Accessories?
The most important decision for you to make will be the accessory you are willing to buy. If your suspension is not the best, the difference between Sport and fixing what you already have is so little we encourage you to take the shot to the sport.  As mentioned above make sure that the running performance of the car is top-notch before you start throwing money at it. Here you will find details to consider when buying these Audi Accessories.
Fitting
It will be worth mentioning that an accessory is worthless if it will not fit your car. Make sure that you make your research before buying any accessories. An Audi A6 matrix headlight will not fit an Audi A4, even more, the year is also important because of the packages the cars come and their compatibility. 
Audi-OEM
There are a large number of reasons to use OEM parts for your Audi. Third-party components that you might use will never unlock the full potential of your Audi. The life long-lasting experience of the Audi OEM parts is nowhere near compared with the third parties. The Chinese Stickers will never turn your car into an S-line but rather give a ricer look to it. 
Comfort & Safety 
Surely you need to consider the amount of comfort that you are missing. Audi is a comfortable car needless to say, but adding an accessory like blind spot mirrors is a driving comfort. The best thing about it is that you will never hesitate to make this investment. Comfort that you will feel with the overall interior, the leather steering wheel, the sporty seats that cover the ribs when you take turns giving the best driving experience.
Best Audi S Line Accessories FAQ
Q. Are second-hand Audi parts or accessories good to buy?
A: Yes, as long as the parts are OEM Audi Part you are safe to buy at discount prices all day long.
Q. Can I replace the plastic glass of the headlights on my Audi?
A: Yes, that is possible, make sure that you check the correct year and model and get the service done by a professional.
Q. Audi Matrix worth it?
A: Audi Matrix is a great line for you to upgrade your Audi. The best lighting and great-looking trim for an Audi.
Our Top Pick
All of the accessories mentioned above will be a great pick for your Audi. Do not hesitate to make your next Audi accessory purchase. The one item that will totally change your Audi Look will be the wheels. The Audi 10-y Spoke is an amazing set of wheels for you to go with. The wheels are rough and tough, will look good on every Audi and we suggest going with a very shiny silver gloss paint for darker color Audis and glossy black for total white Audi's, 
Final Thoughts
To conclude the best Audi accessories to buy are the S-Line accessories and the Matrix upgrades. We advise you to be patient with every purchase that you make and do your research before any payment. Avoid cheap stickers and third-party accessories as they will not last long. What is your favorite accessory? Comment down below. Your opinion is important for us.